Enjoy a fun day at Mini Playtime!
We are a soft play playground where kids under 7 years old can have a blast while developing crucial motor and social skills. You can also host your Birthday party or any special milestone celebration at our playground or join one of our fun filled interactive events.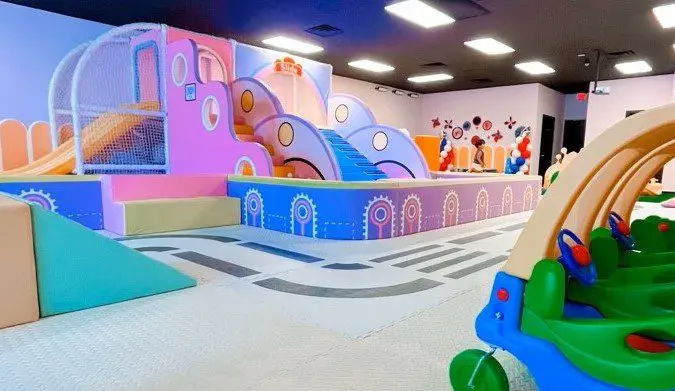 Check Out Our Weekly Calendar
| 9/25 - 10/01 Schedule | Open Play Session | Closed to the Public |
| --- | --- | --- |
| Mon - Wed | 9:00am - 8:00pm | N/A |
| Thur | 9:00am - 8:00pm | N/A |
| Fri | 9:00am - 8:00pm | N/A |
| Sat | 9:00am - 10:30pm & 1:30pm - 3:30pm | 10:30pm - 1:30pm & 3:30pm - 8:00pm |
| Sun | 9:00am - 1:00pm & 4:00pm - 8:00pm | 1:00pm - 4:00pm |
1. Parents and/or guardians must sign a waiver on behalf of themselves and each child before entering the play areas.

2. All children must be supervised by their parent and/or guardian at all times. No drop offs.

3. Equipment and toys are designed for ages 1-7 and are not designed for adults or older children.

4. Please do not allow any running, pushing, or hitting. Respect the equipment and staff.

5. Shoes are not permitted in the play areas. All children and adults must wear socks when in the play areas.

6. No food or drink is permitted in the play areas.
7. No outside food or drink is allowed except for baby food or unless agreed-to by us. 

8. No alcohol, smoking or vaping is tolerated. No lighters, food warmers, candles or open flame of any kind is permitted in the playground.

9. For all slides, we ask that children slide feet first and one at a time, and refrain from climbing up or down the slides.

10. Please leave all strollers outside the play areas.

11. We are not responsible for damaged, lost or stolen items.

12. Most importantly don't forget to explore, make friends and have fun!
Our goal is to have a space where kids can play and grow safely. If you are interested in learning more about our facility, speak with our team today.